It is my pleasure to finally publish a proper call for submissions, aimed at writers and authors from Montreal.
The first issue of the Krizaliz magazine will be published throughout February 2022. The theme I've chosen is immigration in Montreal. You'll find the full details below.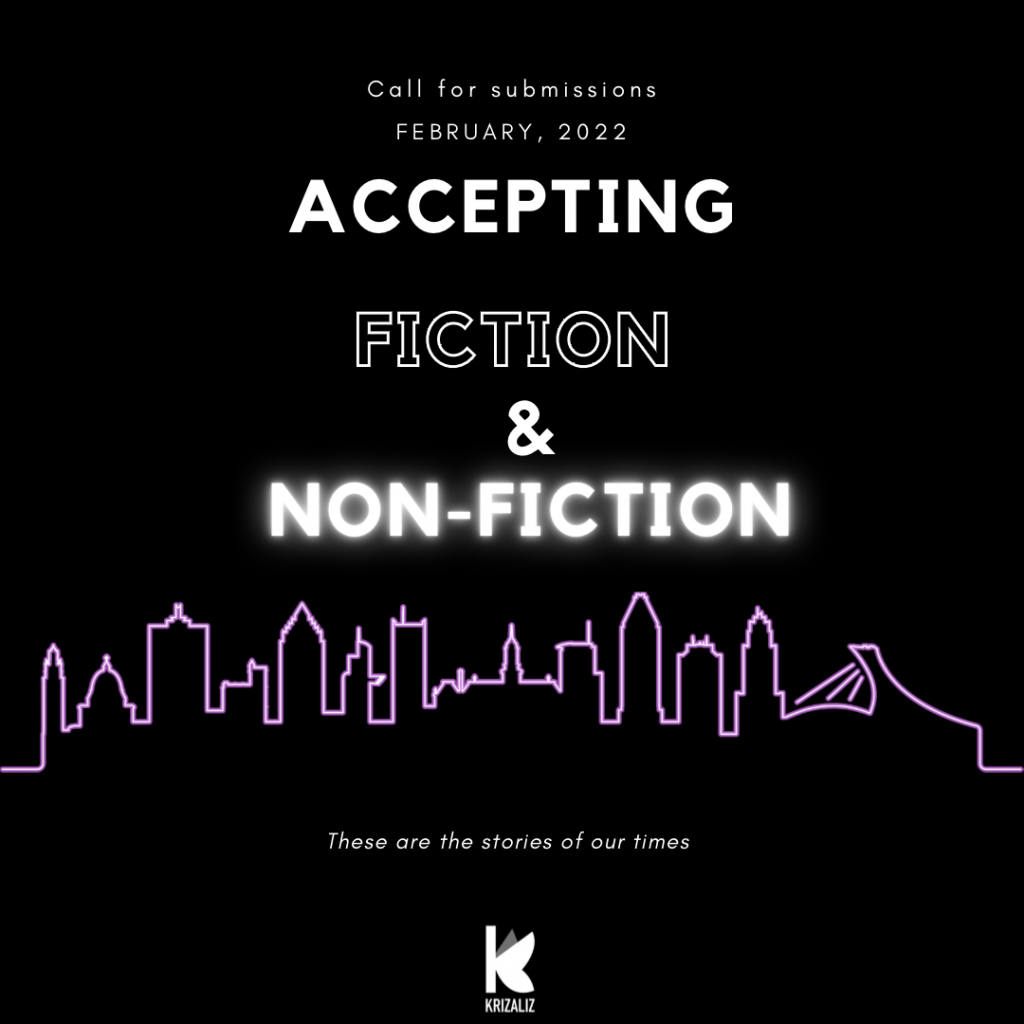 With the significant exception of Indigenous people, all Canadians originally come from somewhere else. The story of immigration fills many chapters in the history of Canada—including the most recent one.

Immigration, Refugees and Citizenship Canada
There are 644 680 immigrants living in Montreal. ("Coup d'oeil sur la population immigrante" January 2020). 285 275 of us (like me) are economic immigrants (56%), 139 475 others are here to regroup with their families (27%) and, 78 760 others are refugees (15%). So, as you can see, Montreal is a city of immigrants.
While not all of us, speak French very well, some of us do speak French quite splendidly.
We bring with us our stories and traditions and wisdoms, and we do our best, to learn Montreal's stories, traditions and wisdoms.
Much of these wisdoms, art and worldview remain little known, even among us immigrants; For this reason, at krizaliz.ca I wanted to make an issue dedicated to immigration in Montreal.

I understand that it is impossible to reduce the vastness of the many peoples and cultures that coexist in Montreal to a single issue of a magazine; however, I wanted to offer this space to help spread knowledge of immigration in Montreal and the literature that it is fuelled by it, hoping that this issue will generate curiosity among readers and encourage them to delve deeper into the richness of these peoples and cultures.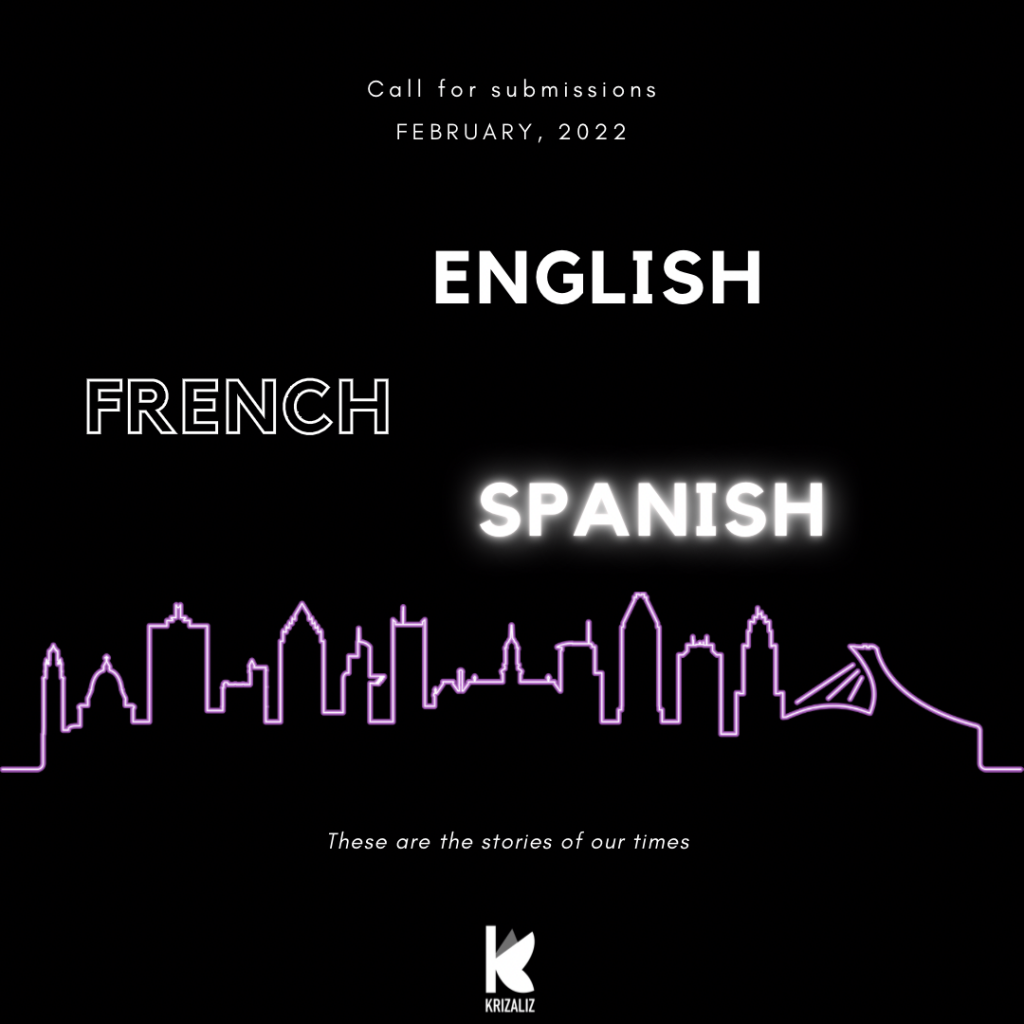 Call for submissions details
This instargam post is based on an essay about Shakespeare and Ann-Marie MacDonald.
*Side-note
Be sure to follow Krizaliz on Instagram and Facebook to stay up to date, and to get literature-inspired content. There's a twitter page but I don't care about that.
If you don't like social media, or you don't want to follow Krizaliz, you can signup for the newsletter by sending me an email.
Texts and writings that I will be receiving:
essays
articles
reviews
recommendations
biographies
reports
interviews
haikus
poems
stories
The works must be sent to the email: contact@krizaliz.ca, with the subject: Submission No. 1 (your first name), in word or pages format (not pdf), spaced 1.5, in arial font 12.
The submitted works can be written in Spanish, French and English.
In the email be sure to include your contact phone number, if you wish to be contacted by text message, Telegram or Whatsapp.
I feel that it goes without saying, BUT, I must make it clear; You must live in Montreal. It is a Montreal literary magazine after all.
Submissions of Non fiction
I recommend a length of 3 to 5 pages, or if you are really hardcore, you can submit a text of up to 10 pages. And leave the layout nightmare to me.
Submissions of Fiction
If you write haiku or poetry, you can submit a compilation with multiple compositions.
The deadline for receiving texts is February 25, 2022.
The content must be original and not have been published in any other digital medium.
If you have an essay or text that you wrote for academic purposes, but that you want to publish, you can submit it; as long as it is original.
The authors of the selected texts will be notified via email, and if applicable text message (just in case).
Those works that are not selected will be deleted and their author informed.
By sending your texts you accept the conditions of this call.
If you have questions, write me through in any of my social networks, or send me an email to the following address: contact@krizaliz.ca
There are many kinds of history. Certainly the more analytical kind, drawing for many facts conclusions about broad movements and trends, is of great importance and necessity. In generalizations, however, something inevitably is lost. What is lost most of all is the sense of history as experience. For experience life in the here and now. No one experiences as abstraction, a theory, a generalization. Experience lies in the moment that is lived, the place that is known. And experience itself is not little. It is life.

Edgar A.Collard. Montreal, Quebec. 7th of January of 1976.
You can submit texts and writings until the last week of February.